---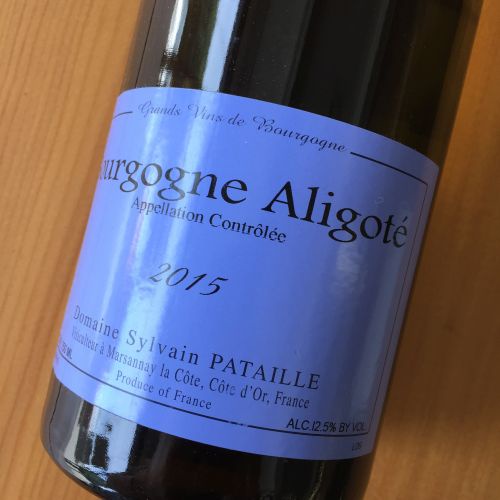 Domaine Sylvain Pataille Aligote 2015
---
Burgundy-it can break your heart- and empty your wallet. Burgundy is home to some of the most expensive wines in the world, but there are still pockets of value in some of the villages – if you know where to look. And that's our job – to know where to look. Villages like Savigny-les-Beaune, Santenay, and Marsannay and good places to start, especially if you keep on the look out of the names of a handful of up-and-coming vignerons who are working minimally in the vineyard and the wineries.
Sylvain Pataille would be one of these names. He was a well respected consulting enologist and winemaker who studied in Bordeaux. But his work only gave him access to a small part of the winemaking process. He wanted to see it through, vine to bottle. So off he went to beg and borrow vineyard parcels in the terroirs of Marsannay-la-cote, located in the northern reaches of Burgundy's famed Cote-d'Or.  His first vintage was in 2001, starting  with only one hectare. Today he has over 12 ha, producing 12 cuvées that cover a spectrum from Aligote and regional Bourgogne to Marsannay Blanc, Rosé and Rouge.
This bottle here is his 'basic' aligote. We have to note that because he also has four seperate single vineyard bottlings. Which is kind of crazy, but very cool. If it's good enough for the Chardonnay grape, why not for aligote? In a moment of weakness, I almost bought them all for the old Manhattan shop, but that would have been REALLY crazy given that I was about to sell that shop and wasn't really supposed to be loading up on hand-sell items like single vineyard aligote bottlings.
But the 'basic' aligote? That one I could justify... even if it meant moving it to Copake. 
Check our our full aligote selection here.
Burgundy, France
aligote
C. FRANK PRIVATE CELLAR