---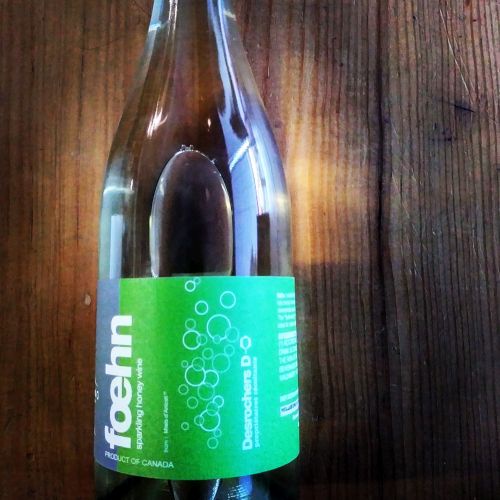 Ferm Apicole Desrochers Foehn Sparkling Honey Mead Petnat 750ml
---
I waited over five years for these magical meads to make their way from three hours north of Quebec to my shelves in New York. It all started on my former rooftop, at
a party that took place during the early days of Twitter, filled with random wine people who until then, had known each other mainly from the interwebs. One of those people had brought a bottle of wacky, magical flor-contact mead. It was a hit. And of course, it wasn't yet available Stateside, which only made it more of a hit. Because New York wine people always want what they can't get. And this being the New York wine scene, eventually you can get anything you want.
 In this case, "eventually" is five years. Many hoops were jumped through, much paperwork filed, and now, these crazy meads are here. 
 Of course you want details.....
Ferme Apicole Desrochers is a family bee farm located in the Upper Laurentians, about four hours north of Montreal. It was founded in 1978 by Marie-Claude Dupuis and Cladue Desrochers who quickly began to add meads, or honey wines, to their offerings.
In the 2000s, their son Anicet and daughter Naline began to take responsibility for the operation. Always organic, the family has worked with their wines in ways that minimize the need for sulphur additions - something that's usually considered a necessity for wines with a high level of residual sugar.
They have also started to play around with less-traditional bottlings of honey magic. If you're imagining the stuff that Thomas Jefferson was drinking back in the days of the Declaration of Independence, you may be disappointed. But if you're feeling even slightly adventurous, be prepared to fall in love with Blizz (dry, intense, from linden and wild mint honey) and Foehn (pet nat! yes... sparkling!!!) And leave your socks at home, because La Cuvee de la Diable (off-dry, complex, magic) the original cuvee that started this quest five years ago, will just knock them off.
OK, that last bit was really cheesy. But what goes better with mead than a little cheese?
Quebec, Canada
mead, honey
C. FRANK PRIVATE COLLECTION