---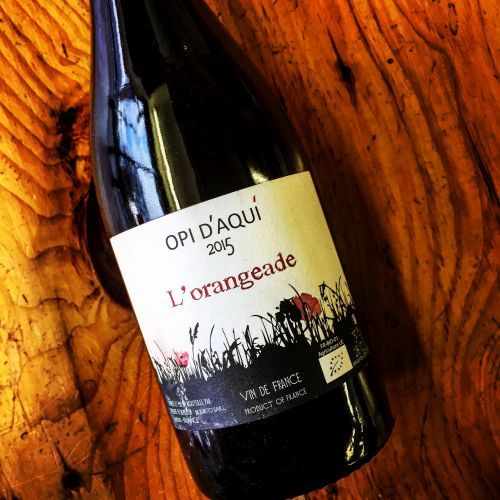 Opi d' Aqui L'Orangeade 2015
---
You may think wine only comes in red, white, and rose. But no, there is also "orange." There's actually a raging debate among the wine geekery about if the term "orange" should even be used, because many orange wines really aren't all that orange - they're copper or dusty pink or the golden yellow-salmon of an onion skin. I like to call them what they really are: skin contact wines.
So what's that mean? 
To explain, you'll have to deal with a little bit of wine-making chemistry. Red wines get their color and flavor from juice contact with the grape skins. White wines typically don't see any skin contact - the grapes come in, the juice is pressed off, and then fermentation begins. With orange wines, skin contact is allowed, for either a few hours, a few days, or in some cases, weeks. This gives the finished wine more color and texture than your typical white wine. This texture could range from a touch of extra weight to full-on tannic structure similar to what you would expect in a red wine. You'll also get extra layers of flavors - more spice, exotic fruits, a little nuttiness. These wines, with their extra weight and flavors, are actually perfect for chilly fall days. They're also the ideal whites for people who don't like white wine.
This one is a skin contact grenache blanc from the Languedoc. Three weeks on the skin, no added SO2, it's got a beautiful rolly-polly silky texture with an orange shimmer and a touch of spice. It's the perfect "first orange wine" because it gives you a taste of what the term means without getting to crazy. And at $23.99, it's one of the one of the less expensive examples of its type.