---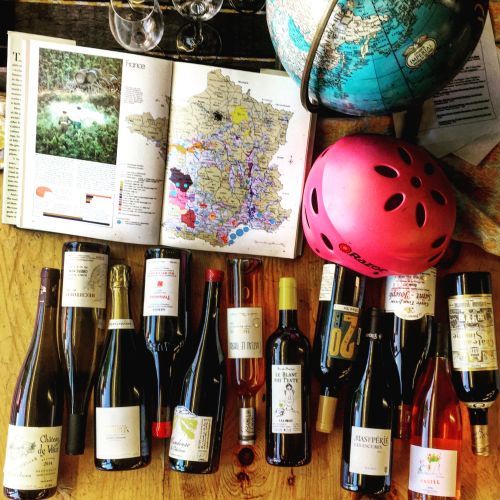 Peloton 12-Pack ($325 with sales tax)
---
There's this big bike tour that takes place in France every year. You may have heard of it. I have fond memories of it from my corporate days when during meetings in Cognac (yes, they were actually meetings, even if we were sitting near the sea, eating snails, they were still meetings) the helicopters would zoom overhead, trailing the peloton as it zoomed by just a few miles (ok... kilometers) away. That same meeting, we used the final Stage as an excuse to escape back to Paris early, smuggling aboard a TGV train and passing ourselves off as clueless Americans who didn't realize we needed advance tickets. (Americans, yes... clueless, no... we knew exactly what we were doing!)
So I've always had a soft spot for this tour, even if I haven't been on a bike for more years than it takes to forget. And I've always linked it to wine and spirits, since that's what I was doing when I first started paying attention. Years later, when I noticed a wine friend on the other side of the country was drinking and blogging about bottles from each of the Stages as the peloton passed through, I offered to help. 
Armed with my Wine Atlas, the official tour map, and my friend's helpful spreadsheets, I set off to pair wines with stages, some of which travel through France's more obscure wine regions. And some of which don't travel through France at all. Opening stages in Luxembourg, the Netherlands, England or Belgium meant some creative thinking (and creative geography) was required to come up with potential bottles. Sometimes booze was involved (in the bottle selections… not the actual selection process!) And sometimes, we just defaulted to beer.
This year's route was a fun one, traveling through favorite regions like the Jura, Bugey, Savoie, Champagne, the Rhone and the Southwest. And ending in Provence before heading back to Paris for the final Stage. It was so much fun, that I'm offering it up to anyone who wants to play along. What you'll see here is actually a slightly tweaked version of the official case, which turned out to be more than a case and included some one-off bottles pulled from secret sources (i.e. my private collection.) 
This one includes twelve bottles so some Stages aren't covered. But you'll almost certainly have leftovers, or miss a night here and there and need to catch up. Or skip the race altogether and just consider this a liquid tour of some of France's more tucked-away wine regions.
The "Map" is below and the full case comes to $325 including sales tax. *
If you want to play along but aren't quite up to the full Peloton Pack experience, we're happy to put together a mini-pack – just let us know. 
PELOTON PACK MAP
Stages 1 – 3 Germany/Belgium: Beer! Which we can't sell you.
Stage 4 - Mondorf-les-Bains / Vittel: Château de Vaux Blanc 2014
Stage 5 - Vittel / La planche des belles filles: Bechtold "Obere Hund" Muscat 2014
Stage 6 - Vesoul / Troyes + Stage 7 - Troyes / Nuits-Saint-Georges: Jacques Lassaigne Vignes de Montgueux Blanc de Blanc NV
Stage 8 - Dole / Station des Rousses: Michel Gahier Le Clouset Trousseau 2015
Stage 9 - Nantua / Chambéry: Les Grangeons de l'Albarine Mondeuse Le Chateau 2014
Stage 10 - Périgueux / Bergerac: Chateau Le Payral Saussignac 2005 500ml 
Stage 11 - Eymet / Pau: Lassolle Blanc Qui Tente 2015
Stage 12 - Pau / Peyragudes: Lapeyre Juroncon Sec 2013
Stage 13 - Saint-Girons / Foix: drink some left overs
Stage 14 - Blagnac / Rodez: Fabien Jouves Mas del Perie Les Escures Cahors 2015 
Stage 15 - Laissac-Sévérac l'Église / Le Puy-en-Velay: more leftovers
Stage 16 - Le Puy-en-Velay / Romans-sur-Isère: Becheras Saint Joseph Rouge Cuvee Tour Joviac 2013
Stage 17 - La Mure / Serre-Chevalier + Stage 18 - Briançon / Izoard: drink leftovers from Stage 9… well chilled
Stage 19 - Embrun / Salon-de-Provence: Domaine de la Realtiere Pastel Rose 2016
Stage 20 – Marseille: Simone Rose 2015
Stage 21 – Paris: leftovers!
* As we sell these, if we run out of any given wine, we may need to substitute something from a similar region/producer or equal or greater value.