---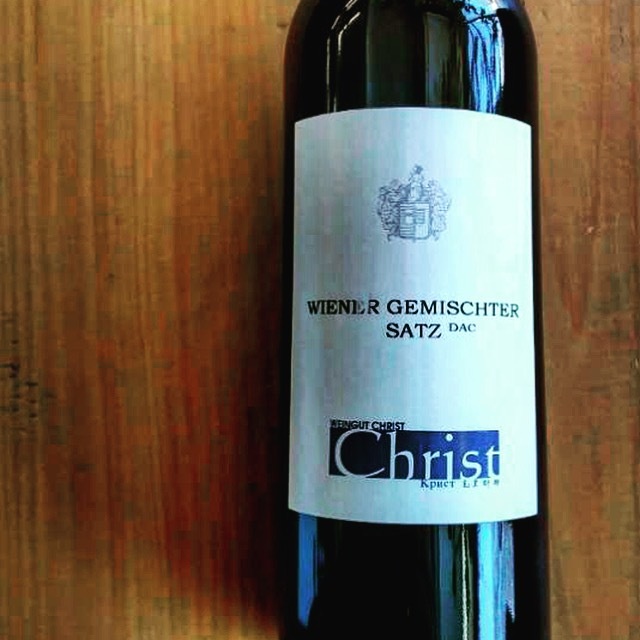 Weingut Christ Wiener Gemischter Satz 2015
---
WHITE WINE OF THE MONTH
NOTE: I wrote this way back in 2009, but it's still relevant, because nearly 10 years later, you probably STILL haven't heard of Gemischter Satz. It takes a long, long, long time for a wine region that's not well suited to the big brand, big supermarket, big distributor market structure to break out of the niche wine corner. This is such a wine region. But that's why we're here - to introduce you to the deliciously obscure corners of the wine world. So read this little blast from the past, then travel back to the future and come in to grab a bottle.
The note below is about Gemischter Satz wines in general, but the specific one that's pictured here is from Rainer Christ. I've had a love affair with this wine since I first tried it. Old vines, biodynamic farming, and nearly 10 different grape varieties wind up in this bottle. For me, this is the classic expression of Gemischter Satz. Now that's not entirely fair to all the other very tasty GSs out there, because by definition, there isn't supposed to be a "classic" GS. But perhaps it because it's one of the first I ever tried. Or perhaps it's because I tried it on a lovely summer day with the shop door open while a summer breeze blew lightly through the store. (That's TOTAL bullshit, because the A/C was probably on, the door was probably shut, and if it wasn't, we were probably listening to the honking of a thousand horns.) Or maybe it's just because the wine was so good – so pretty and fresh and elegant with that lemon-kissed, subtle-floral-but-still-bone-dry thing that I will never, ever quit.
We all have our thing. And this wine, it's very much my thing.
________________________________________________________
SOMETIME IN 2009: What? Never heard of Gemischter Satz wines? Neither had we, until this summer, when Mr. Carlo Huber showed up at our shop. Well, he didn't just show up, he did have an appointment. And in his wine bag, he had a range of tasty Gemischter Satz wines. 
GS for short (at least accordingly to me), these wines come from inside the city limits of Vienna, are made from anywhere from 2 to 20 grape varieties [ED. NOTE, it now has to be at least 3], all growing on the same plot of land, and all harvested and vinified together. I could tell you more about the joys of field blends, or you could just read what Eric Asimov at the New York Times wrote in his Wednesday column.
Tasting through Carlo's selection of GS wines, I was impressed at how different they all were. Some were light and floral, some a bit more weighty and oily. One had this almost yeasty/bready note going on. But all managed to be wonderfully fresh, aromatic and generally charming. Pardon me while I get all wine-geeky, but they all tasted like slightly different versions of springtime. And as the weather starts to get all chilly and bitter, who couldn't use a bit of springtime in a glass.